Length: 4-minute read
Mr. Lee Kuan Yew's Greatest Influence Could Be In the Future Generations…
Mr. Lee Kuan Yew's legacy lies in the future, not in the past.
History is about the past.
Legacy is about the future.
Legacy is about setting in motion and starting a movement.
I believe our founding father's death can set in motion the rise of a new generation of heroes.
Mr. Lee Kuan Yew is a hero.
He is our hero.
Nations and societies are built on the courage and sacrifices of heroes.
Heroes are selfless and self-sacrificial.
That's why heroism is the best way to teach morals and character to a young generation. Tales and images of their heroic exploits and mighty deeds inspire idealism, altruism and patriotism.
Unfortunately, the death of our hero also magnifies the dearth of heroes in this generation.
Where is our Mandela, Mother Teresa or Martin Luther King Jr.?
Our newest hospitals are named after Khoo Teck Puat and Ng Teng Fong – uber successful, smart and charitable men but not exactly heroes. At the same time, Dr. Alex Chao is forgotten. Who is Dr. Alex Chao? Well, that proves my point.
As kids, my generation's heroes were PM Lee Kuan Yew, Neil Armstrong, Oskar Schindler, Patton, William Wallace and even Luke Skywalker and Rocky. Yes, we used to dream of growing up to become astronauts, fighter pilots, soldiers and explorers. Now in this young generation, their heroes are the Kardashians, Justin Bieber and Taylor Swift. Now they dream of growing up to become bloggers, socialites, supermodels and Youtube stars. Now, the Singapore dream is best portrayed by credit card advertisements – Travel, Food, Spa and Luxury.
Winston Churchill said, "A nation who fails to honour its heroes will soon have no heroes to honour."
That is why we need to honour Mr. Lee Kuan Yew. Not just for his sake but for our sakes…and for our children's sake. That is why we need to re-live the images of his adamantine resilience and re-tell the tales of his selfless courage. With this "Re-live – Re-tell – Repeat" cycle, hopefully the death of a hero will lead to the birth of a generation of heroes.
Never in the last 50 years has there been such a collective, united, passionate act of gratitude, respect and honour. For the first time, I am proud of Singaporeans' penchant for lining up. We queue up for Sales, iPhones and Hello Kitty. But this week, we queue up for the right reason.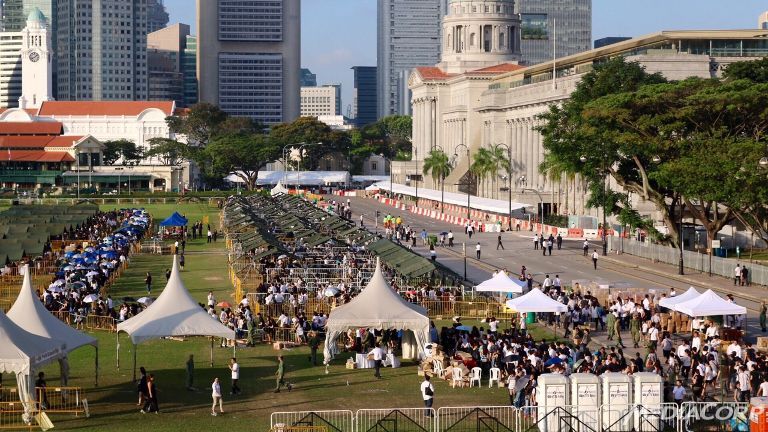 While the heroism of the pioneer generation is sacrosanct, they must not be our last and only great generation. Great heroes not only mobilized their generation but they also raise up new generations. Mr. Lee Kuan Yew will do just that. He not only mobilized his pioneer generation, but he will also inspire many new generations. For my children and their children, the idea of Mr. Lee Kuan Yew – the hero, will have more impact than the ideals of Mr. Lee Kuan Yew – the prime minister and the ideology of Mr. Lee Kuan Yew – the politician. Yes, I believe his greatest influence may possibly be in the future generations.
Mr. Lee Kuan Yew is a giant Sequoia in the forest of humanity.
Singaporeans can stand tall because of him. Now may we also grow taller because of him!